Traeger grills are one of the true innovators in the world of barbecue.
Although they keep the traditional wood-smoked barbecue ideals, they make things so convenient and reliable and have certainly solidified themselves in the history books of barbecue.
If we look back, Traeger grills have really come a long way from their first model. But, with all their different series through generation one and generation two of Traeger grills it's easy to get lost on exactly which model is which.
Here we take a look at the first-ever Traeger model, the differences between Gen 1 and Gen 2, and how you can find out what model of Traeger you have. 
Sometimes you have to look back to see how far you've come, or so they say.
When it comes to Traeger grills, well you have to look all the way back to 1988 when they released and sold their first grill.
But, these original Traeger models more closely resembled Texas offset barrel smokers than the typical pellet grill you see today.
They did still have the fundamentals, from the familiar side-mounted hopper, to a low-medium-high temperature control, to their induction fans.
Although the basic concept is the same as what you'll find from the newer Traeger models, there have been numerous improvements that have refined the pellet smoking process we've all grown to love.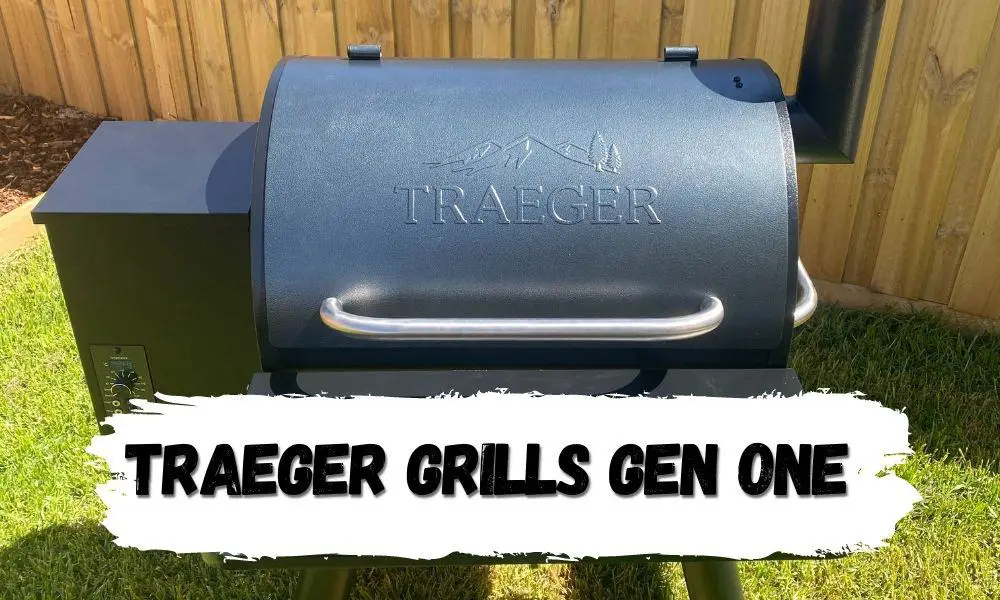 When people talk about series 1 or Gen 1 Traeger grills, they are usually referring to Traeger's first-generation Pro series: The Traeger Pro 22 and 34. 

But, just because they're often labeled as "Gen 1" doesn't mean they lack in performance in any way, shape, or form.

Still, at this stage the Gen 1 Traeger Pro series are considered Traeger's least expensive, entry-level model.

Here's a closer look at their build quality, size, capacity, and performance. 

Note: technically there are also Gen 1 Ironwood and Gen 1 Timberline series too. However, these are still much newer models in general which is why Gen 1 normally refers to the Gen 1 Pro series.
It's important to highlight that even these older Gen 1 models are built to last. Simply take a look at any local grilling marketplace, you'll still see some of these 10+ year old bad boys going strong.
The Gen 1 Traeger Pro 22 and Pro 34 still boast the same durable, powder coated steel construction and porcelain-coated grill grates.
They still come with the familiar digital display and probe set for easy temp tracking.
All the essentials are there, they just don't come with some of the luxury features of the newer, Gen 2 models.
Typically, the hopper capacity doesn't differ between Gen 1 and Gen 2 Traeger grills of the same series.
You'll find Gen 1 Traeger pro series has an 18lb capacity, which will last you a good 8-18 hours of smoking time depending on your temperature choice.
When it comes to the cooking capacity, the Traeger Pro 22 has 572 square inches of cooking space, while the Traeger Pro 34 has 884 square inches.
Are Gen 1 Traegers Still Good?
I'll level with you, I can't personally tell the difference between the performance of the Gen 1 and Gen 2 Traeger models.

I would say they both hold their temperature equally well, heat up at the same rate, and smoke the meat just as deliciously as one another.

In saying that, the newer Gen 2 Traeger models, including the Pro, Timberline, and Ironwood Series, do offer newer technically, making things more adjustable, easier, and even more convenient.  
Traeger Grills Gen 2 - What Changed
Alright, alright, alright.
So Gen 1 Traeger's are still producing top quality barbecue, how much better can it get with Gen 2?
Well, if you directly compare Gen 1 and Gen 2 Traeger grills, the improvements and added functions include:
Pellet Sensors:

To monitor pellet levels and alert you when they're getting low.

Adjustable P-Setting

: The ability to set how often pellets are drawn through the auger – great for

combating cold weather.
Wi-Fi & Bluetooth Integration:

The ability to connect your grill to your phone via Wi-Fi or Bluetooth to monitor or adjust temperatures.

Super-Smoke Mode:

An extra low temperature that produces

as much smoke as possible from your Traeger.
All these improvements can be witnessed between Gen 1 Pro series and Gen 2 Pro series, but some of these functions were already included in the Gen 1 Ironwood and Gen 1 Timberline series.
Are Gen 2 Traegers Worth It?
Recalling that the actual smoking performance between the Traeger Gen 1 and Gen 2 grills is barely noticeable, then it begs the questions: are Gen 2 Traeger's really worth it?
The truth is that it depends on what you're looking for in a pellet grill.
Of course, the Gen 1 Traeger's are much more affordable, and still perform exceptionally well compared to other pellet grills in the market.
But, Gen 2 Traeger's offer top of the line quality, convenience, and functionality. The largest Gen 2 Traeger is the new Traeger Timberline XL which comes with an induction side burner too.
How To Find Out What Traeger Model You Have
If you've had your Traeger for yonks, or you're in the market for a second hand Traeger, it can be a little hard to work out exactly what model you're looking at. 

Luckily, if you are trying to figure out what type of Traeger model and generation you have, you can take a look at the label, the manual, or seek answers from Traeger themselves.

Here's how to find out what Traeger model you have.
The fastest way to tell which Traeger model you have is to check the label. In most cases it's found under the hopper's lids, but it can also be printed on the back of the grill itself.
Look for an 8 to 9 digit code composed of letters and numbers, usually starting with TFB or BBQ.
For example, in the picture above it shows my grill model number is TFB57PUB which is the model code for the Gen 1 Pro Series 22.
Once you've got your grill model number simply head on over to Traeger's website and search the code from the search bar!
If the sticker is missing from your Traeger or it's too worn to read properly, try dig out the manual that came with it.
Although each manual that comes with your Traeger has the same base information, it also contains specific and unique information about your grills model and it's parts.
If you have your manual, check on the front or inside cover to discover what generation, series, and model you have.
If you've misplaced the manual and theirs no longer a label on your grill, then you can always browse through all the models on Traeger's website and try to identify your own.
However, there's a chance that they may no longer sell your grill, which is especially true for older models.
If you've exhausted all other possibilities you can always get in touch with Traeger directly, send them some information and pictures of your grill model, and they can help determine what you've got!
This can be especially important if you're needing to source replacement parts for older Traeger models!
Since the first grill was designed, marketed, and sold in 1988, Traeger has come a long way and has certainly solidified themselves in the history books of barbecue.
Both the Gen 1 and Gen 2 Traeger models are equally as amazing at producing real wood-smoked food. But the Gen 2 models have added functions for ultimate convenience and monitoring purposes.
Still, older Traeger models are still just as good as the newer ones at smoking meat. Plus, because of the top-notch build quality, they're likely to stick around for years and years to come.
If you've got an older Traeger and you're trying to find out the model, check the sticker on the inside of the hopper, check the manual, or ask Traeger directly!