No matter the menu, the choice of appetizers should always complement the main.
Now, I know if you're smoking brisket then you've got your main covered. Let's be real, there's no way smoked brisket isn't going to be the star of the show.
But, when it comes to choosing the perfect appetizers to serve before smoked brisket, well, that can be a little more challenging. 
If you're looking to impress your guests from start to finish, here are the top 10 best appetizers for smoked brisket, including the recipes and how-to's to replicate them for your menu.
Let's make it clear. We're looking at appetizers for smoked brisket, not sides.
You serve sides at the same time as your brisket, but appetizers are served beforehand. Appetizers should always complement the main course, warming up your tastebuds and preparing them before you unleash the smoked brisket.
Anyway, we're not here to dilly-dally.
The inspiration for these top 10 best appetizers for smoked brisket comes from some of the top barbecue restaurants across the world, some classic favorites, and from personal experience smoking brisket for events.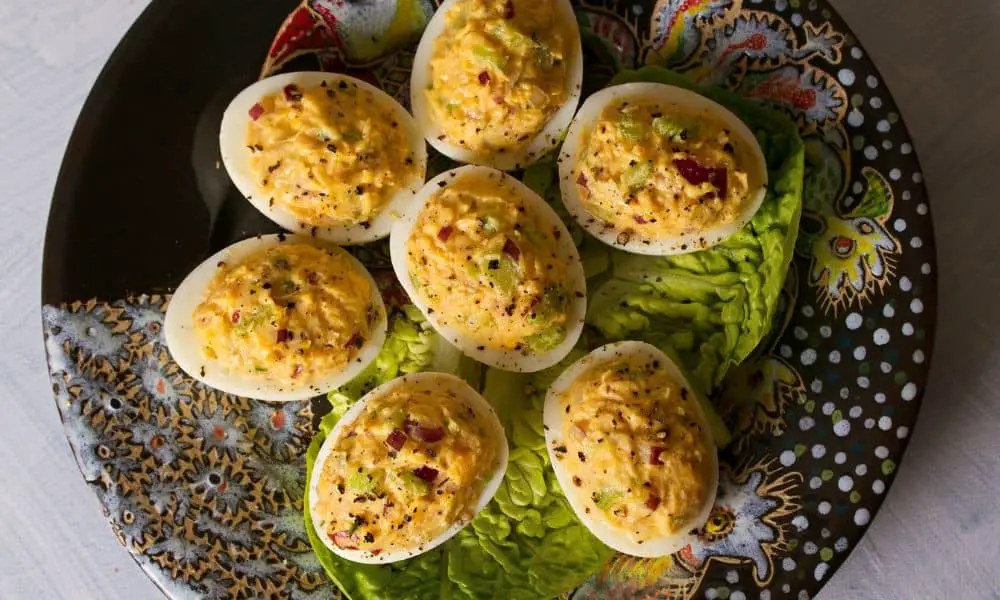 Perfect for any summer cookout or backyard barbecue, smoked deviled eggs are a classy but ultra-delicious finger food appetizer for smoked brisket.
But we're not just talking deviled eggs, we're talking SMOKED deviled eggs.
It sounds like overkill on smokiness, but we barbecue lovers know that's not really possible. 
On the contrary, the hint of smokiness teases your guest's tastebuds for the ultimate smokey brisket to come.
Plus, they are ridiculously easy to make:
Hard boil your eggs for 5-6 mins (noting they will continue cooking in the smoker)
After boiling your eggs place them into an ice bath to stop the cooking process
Carefully remove the entire shell from the eggs
Place your peeled eggs into a preheated smoker at 225°F (any smoking wood is generally good)
Smoke your eggs for around 20-30 minutes (the egg white will turn light brown)
Let them cool, slice them in half, and scoop out all the yolks into a bowl
Mix the yolk with mayonnaise, mustard, hot sauce, garlic powder, and a small sprinkle of your favorite BBQ rub
Place the yolk mixture back into the egg whites

Top with smoked bacon crumbs and a small sprinkle of BBQ rub for that extra pzazz
Garlic crostinis are the cousins of garlic bread. The same delicious garlickiness, but the slightly fancier and nicer cousins.
The icing on the cake?
Once you've perfected the classic garlic crostini, you can get quite experimental with some of the toppings, from tomato to salami, to cheese – your imagination is the limit.
As packed full of flavor as they are, serving a few to your guests as appetizers will warm up their tastebuds without allowing them to overindulge.
Watch the video below for a perfect demonstration of the simple, yet effective: garlic crostini.
A simple tomato and basil bruschetta goes a long way. 
Plus they're super easy to make, and guests can get away with eating a couple without becoming too full for the main course to come.
We've tried making our own rendition of the tomato bruschetta, but simplyrecipes' tomato bruschetta has us beat!
4. Pita Bread & Buffalo Chicken Dip
If you've never tried buffalo chicken dip then I'm going to beg you to make some as quick as humanly possible.
Yup, this dip literally has buffalo chicken in it.
This midwest twist on the classic dip is an ultra-fitting appetizer for smoked brisket for any game-day parties, barbecues, or tailgates.
An easy recipe that makes an unbelievable buffalo chicken dip is Cafedelite's buffalo chicken dip.
Once finished, serve with your favorite bread (warm, pita triangles work perfectly though).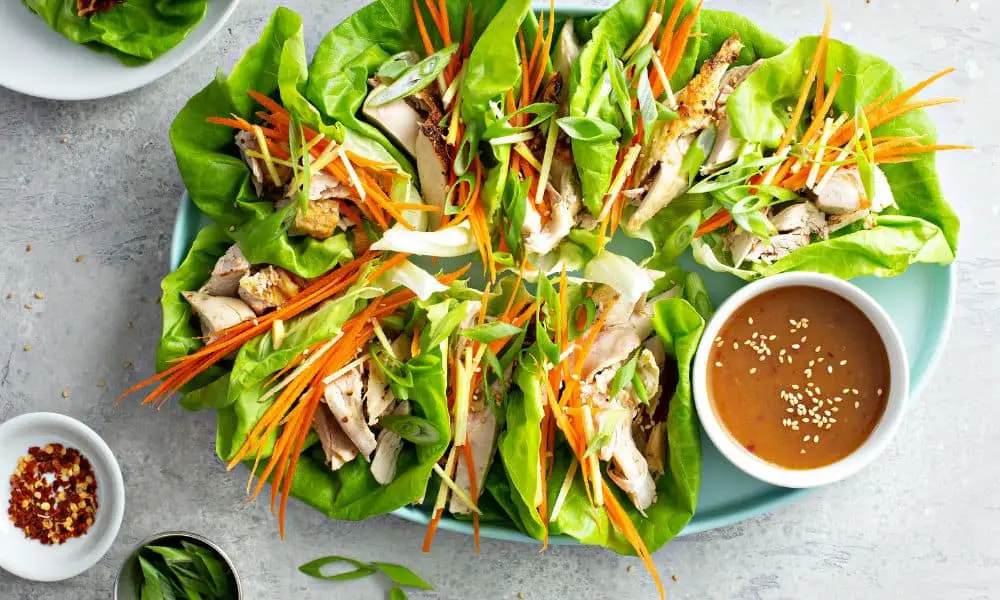 Chicken lettuce wraps don't sound exciting until you have had the best chicken lettuce wraps. We'll save you the heartache and skip to the good part.
Over the years of making chicken lettuce wraps as appetizers (or even as a whole meal sometimes), we've picked up a few things.
Here's our homemade recipe (with tips) for making the most delicious chicken lettuce wrap appetizers.
You'll need:
Carrot
Green Apple
Chicken Breast (Either Grilled In Strips Or Pulled From A Roast Chicken)
Lettuce (Baby Iceberg, Or Cos Lettuce Work best)
Spring Onion (For Garnish)
Fried Shallots (For Garnish)
For the sauce, mix together in a bowl:
Soy Sauce (¼ Cup)
Brown Sugar 1 Tbs
Olive Oil 1 Tbs
Sesame Oil 1 Tbs
2-3 thinly sliced Red Chili (Cayenne Or Thai Red Chili – depending on your spice tolerance)
Sesame Seeds (One sprinkle, optional) 
You can choose to ensemble each lettuce cup yourself with a bit of each ingredient and about a teaspoon of your sauce, or you can leave all the ingredients out for your guests to make their own!
6. Grilled Stuffed Mushrooms
Bring out the portobello or shiitake mushrooms for all the fun guys (fungi's). Apologies, the pun had to be made.
Here's what to do to make the best mushroom appetizers:
Cut Off the stem and remove the insides underneath the mushrooms, making a "dish-like" shape

In a bowl, mix cooked crispy bacon, cream cheese, jalapeño, and finely diced onion

Stuff the mushrooms with your filling and keep them upside down so none of the filling comes out.

When you're ready, place your stuffed mushrooms on the grill for 10-12 minutes, either in indirect heat or over low-direct heat.

One minute before they are done, top the mushrooms with your favorite grated cheese (vintage cheddar is amazing).
Viola, some amazingly indulgent stuffed mushrooms – perfect as an appetizer for a smoked brisket feast (as long as your guests don't eat too many!)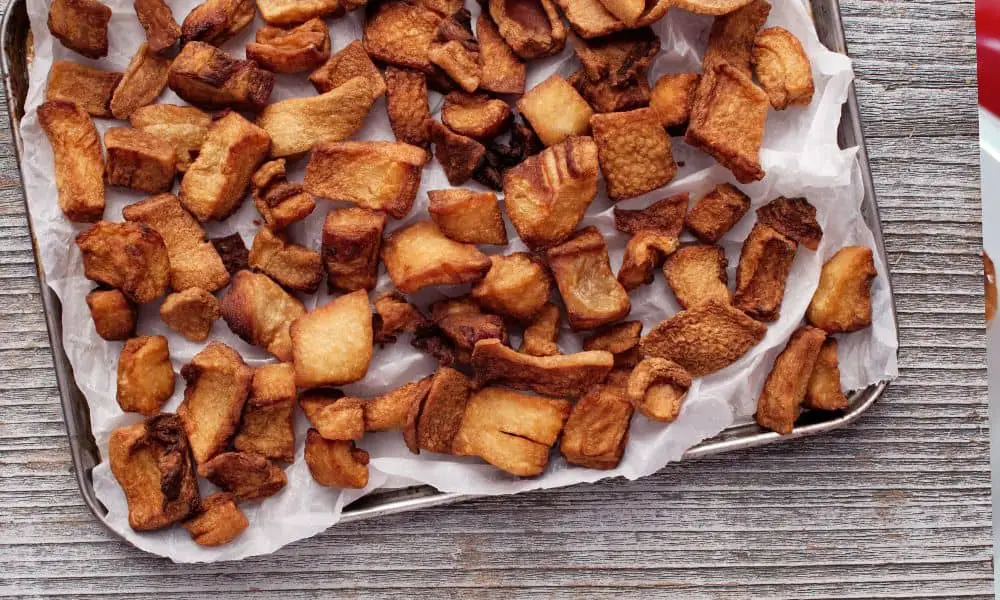 If it isn't clear by now, this list is in no particular order. If it were, we all know chicharron would NOT be number 7.
Seriously, this Spanish-inspired dish takes an already delicious piece of pork (belly) and somehow makes it even more addicting.
Without further adieu, check out everything you need to know about making and serving Chicharron as your appetizer:
Where would a top 10 appetizer list be without at least one dish to cater to those that LOVE seafood?
We reckon the best seafood appetizer for smoked brisket, is the perfectly delightful: fried calamari.
This simple appetizer can go a long way, especially when you start getting creative with dipping sauces. 
Will you go for a classic tartare or garlic aioli, or try something a bit more exotic like apricot hoisin sauce or Chinese mustard sauce?
Whenever I hear "spinach puffs" i immediately think of Kronk and the Emperor's New Groove (if you haven't seen the movie you're missing out).
The second thing I think about is how delicious they are as an appetizer for any meat-heavy main course.
Watch below to see Binging with Babish recreate Kronk's Famous spinach puffs.
10. Crispy Smashed Potatoes
Smashed potatoes take the best elements of having a tasty baked potato and having a crispy potato wedge and smash them into one.
Serving 2-3 to your guests as appetizers is the perfect start to any feast. 
I could sit here and try to tell you how to make the perfect smashed potato, but really I'm doing you an injustice. Instead, take a look at how Preppy Kitchen makes theirs (it's the recipe we follow!)
Other Factors That Influence Your Menu
There's no denying the deliciousness of all the above appetizers, as they all complement a brisket feast. 
But, there are some other factors you should consider which will help you narrow down your choice of appetizers too, including:
The Type Of Event You're Hosting Or Cooking For
The Time Of The Meal
The Other Sides You'll Be Serving With Your Brisket
Consider the difference in what you'd be serving (& how much) between the following events:  
A sports team celebrating their win
Grandma's monthly book group
Although this is an extreme comparison, the type of event can play a huge part in what the optimal appetizers are.
Cocktail party? Finger food appetizers. Sit-down Dinner? Classier, elegant appetizers.
You should also consider how many people you're going to be serving too. Some appetizers are easier to make in bulk than others!
If you're planning on cooking for over 10+ people, check out our guide to preparing brisket for a crowd.
Although brisket is typically served for dinner or in the afternoon for a late lunch, I'm not judging anyone serving brisket for breakfast either!
But, it's important to remember one major thing when it comes to people's eating habits.
People tend to eat more food in larger portions towards the end of the day vs. the start.
Think about what time you'll be serving food and use it to determine what appetizers might suit your menu and event best.
What Sides Are You Serving With Your Brisket?
A good rule of thumb to follow, don't double down on any one kind of food in a set menu. 
If you plan on serving potato with your brisket, don't serve potato as your appetizer. If you plan on serving bread with your brisket, don't serve bread as your appetizer.
It's pretty simple.
To go even further, you can start to break the foods into groups such as "carbs", "proteins", "vegetables" etc.
Try to have an even spread of all food types and don't serve too much of one type or food group throughout your menu.
Just like the sides can make a difference to the ideal appetizers, so can the sauce you serve with your brisket. If you're looking for something different, check out our guide to alternative sauces for smoked brisket.
A simple appetizer can take a brilliant feast into an unforgettable one.
Why? Many people don't expect to be blown away by appetizers. So long as you can deliver on your main course, smoked brisket, then perfectly executed appetizers will only add to the experience.
Remember to take into consideration the time of day, the type of event, and what else everyone will be eating throughout.
Oh, and one more thing – if you're planning to serve smoked brisket be sure to send an invite my way!