Turkey is one of the most glorious meats to smoke if done correctly! Once you're comfortable with the smoking process, you can really get creative with the smokey flavours that come from the wood chips. However, there are some classic woods that naturally pair with the turkey's savoury and light flavour. 

To truly smoke a masterpiece, you want everything to be just right. Different woods impart different flavours to the meat, and also can add different colours. This way, by selecting the best wood chips for smoking turkey you can feast your eyes, as well as your stomach!
What Are Best Wood Chips For Smoking Turkey?
1) Maple Wood Chips For Smoking Turkey
Doesn't overpower the turkey

Gives the meat a darker and richer colour

Natural sweetness pairs with the turkey
If you like a strong smokey flavour others are better suited
What Matters The Most
The subtle smokiness doesn't overpower the natural turkey flavour, but you can still tell it's smoked.

The strong sweet flavour pairs well with the savoury flavour of the turkey meat, with the smokiness to tie it together.

If you prefer a stronger smokey flavour, maple can be blended easily with other stronger wood smokes, such as that of hickory or oak. This will mean a stronger smokey flavour, but still bring the sweetness from the maple.

Turkey often comes out of the smoker a brighter orange, this well brings a richer brown to the skin, making it look much more appealing!
Overall:
Maple is a classic smoke pairing with turkey, and although it's certainly not the strongest in smokey flavour, it's number one because of the sweetness, and subtle smokiness. If you prefer a stronger, deeper smoke, you can blend maple with oak or hickory wood chips to have both the smokiness from the other wood, but the sweetness from the maple.
With turkey being a relatively plain flavour, it's a great canvas to add different flavours to. It's important not to go overboard though, or you will overpower the subtle turkey flavour, which is why maple yields the best wood chips for smoking turkey.

2) Oak Wood Chips For Smoking Turkey
Solid smokey flavour

Burns very hot

Smooth and not overpowering
Not sweet, which pairs well with turkey
What Matters The Most
Oak is the perfect pick for those who prefer a stronger smokey flavour with their turkey. It's not overpowering, but it does stand out.

Oak produces a lot of heat, and has a nice light white smoke. 

Oaks' strong point is it's smokiness. The downside is that it doesn't have any other prominent flavours, such as fruity, or sweet.

When pairing with turkey which has a subtle flavour it's better to go with sweeter or fruitier flavours to compliment the turkey.

Luckily, oak does blend well with fruity and sweet wood! So if you prefer a more vibrant flavour you can try blending the smokiness of the oak wood with apple or maple woods for the desired flavour. 
Overall:
Oak delivers a classic smokey barbecue flavour, but it doesn't have other natural flavours like fruity, nutty, or sweet. If you love a nice smokey flavour then oak is definitely the right choice. The smooth smokey flavour of the turkey shines through, but isn't overpowering. If you prefer more vibrant flavours, try blending oak with maple or apple to get a sweeter, or fruity flavour.

3) Apple Wood Chips For Smoking Turkey
Fruity flavours stand out on turkey

Produces lots of smoke

Great smoky flavour
What Matters The Most
The fruity smokey flavour really stands out on the turkey. A crowd pleaser at Thanksgiving or Christmas.

Apple wood naturally produces more smoke, especially if the wood has been soaked, although not required. More smoke means a more smokey flavour. 

Because apple wood already smokes well, it's important to keep the heat low, around 240 – 280°F.
Overall:
If you haven't tried apple smoked turkey then you're in for a treat. The fruitiness of the apple really stands out on the turkey, and makes a great combination of flavours. The smokiness ties it all together. Just be sure to smoke under 280°F, if apple wood smokes at high heats you risk over smoking the turkey.

Woods to Avoid When Smoking Turkey
Turkey has a unique, but not overly powerful flavor. For this reason you want to avoid woods that are known to have a strong smokiness to them. These are woods like hickory and mesquite. Although these are the best woods for smoking brisket, turkey is a lot more delicate. Turkey is generally more expensive, so you don't want to invest all of the time and money for it to come out too smokey!
If you do enjoy the traditional smokey flavor oak is the best bet. If you have hickory wood on hand you can use it, but it's best to blend it with a more subtle smokey wood to balance it out. Hickory, or oak, blends very well with fruity or sweet woods. Try apple, peach, or maple go for a 50:50 split for a nice even smoke.
How To Smoke A Full Turkey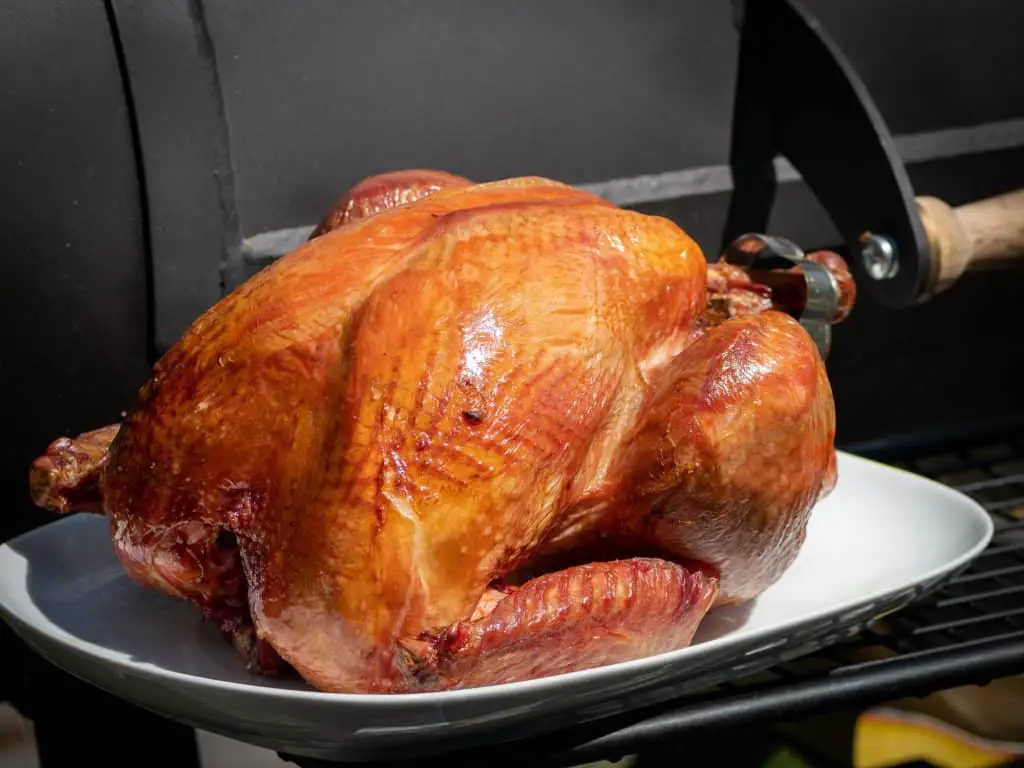 Select Your Wood
It really is up to you which flavour you prefer. Just remember you're looking for a nice smokey flavour, but you also don't want something overpowering such as mesquite. Fruity or sweet flavoured smoke pairs well with turkey, which makes maple and apple great choices, oak can be used blended, or on its own for it's strong smokey flavour.
Select Your Rub
The rub helps the skin and surface of the turkey get crispy. It also penetrates into the surface of the meat. Again, it comes down to personal preference. Make sure to coat generously, and try sweeter flavours that have brown sugar as a base. 
Tip: don't make the rub too wet, as it won't result in the same crispy texture. You can always add a sauce afterwards!
Preheat Smoker
Different types of smokers preheat differently. It's important to get to know yours. As a general rule of thumb just make sure to get it to the desired smoking temperature. Look for a nice light and white smoke. Once you have a control on the temperature it's ready.
Set Your Temperature
It is recommended to smoke turkey between 225°F and 275°F. Be sure to have a reliable thermometer and good temperature gauge to keep an eye on the smoking temperature. If the smoking temperature starts to exceed 275°F close the vents to let less oxygen in, reducing the temperature. If it drops below 225°F open the vents up more.
Note: The best smoking temperature for a spatchcocked turkey is 275°F!
Smoking Time
Depending on the size of the turkey, it should take between 6-9 hours for a good smoke. If you're just smoking the legs it may only take a few hours. Per pound of turkey you can smoke it for about 30-35 minutes as a guide.
Tip: for the exact doneness, keep an eye on the internal temperature. Once your thermometer reads above 170°F in the meatiest part then it's ready and safe to eat!
Last Touches
If you really like the skin crisp you can try raising the temperature for the last 10 minutes or so or until the turkey begins to get a nice dark brown colour. That's it, it's ready to serve!