All steels aren't made equal. Because of the engineering and quality of Japanese steel, it's important to use the right tools to keep it durable and performing at its best.
The best honing steel for Japanese knives should be fine-grit ceramic, as it's tough, resistant, and it will realign the blade without damaging the steel of the knife.
Avoid stainless steel honing steels at all costs!
Let's break down the easiest and most effective ways to hone the steel of your Japanese knives and the best available tools for the job. 
Best Honing Steel For Japanese Knives
When looking at honing your Japanese knives, choose a honing steel that will be strong enough to realign the blade without damaging the steel.
Ceramic honing rods that have extremely fine grits tend to be the best choice for Japanese knives.
You also want your honing steel to be longer than the knife you are realigning, this way you can run the whole blade down the steel in a swift and even motion.
Here are the top four honing rods in the market for Japanese knives. 
Noble Home & Chef's Professional 11.5 Inch Ceramic Honing Rod
High quality Japanese ceramic

Two grit options, 1000 grit, and the smoother 2000 grit
Perfect length to hone any sized knife
Pure ceramic is tough but breaks more easily if dropped
The Noble Home & Chef's Ceramic Honing Rod is no doubt one of the best tools you can use to hone your Japanese knives. Made from Japanese ceramics it's literally built for use on hard steels like Japanese knives. 
It has two 1000 grit sides opposite from each other, and two 2000 grit sides opposite from each other. Most of the time it's recommended to use the finer, 2000 grit option for honing Japanese knives. If the knife is particularly dull or misshapen, you can use the 1000 grit sides first, then the 2000 grit sides.
The Noble Home & Chef Honing Rod is non-toxic and never rusts. The only downside is you have to be more careful when handling it. Although ceramic is extremely tough, it's much less forgiving if it's dropped. Even so, the beautiful design and pristine performance of this honing rod make it well worth it.
So long as you don't drop it this will be your last ceramic honing rod you'll ever need!
Dalstrong 10 Inch Black Ceramic Honing Rod
Stainless steel core with scratch-free ceramic coating

Silicon tip for grip and extra bolster for safety
Very slight abrasions, designed specifically for high Rockwell hardness steels, like Japanese
More expensive

Slightly shorter
Dalstrong's gone and done it again. Making top-quality, market-leading knives and kitchen essentials, this honing rod is no different.

The Dalstrong Black Ceramic Honing Rod is a professional-grade tool specially designed to perfectly align hard steel knives without damaging the blade. This is due to its extremely slight abrasiveness, which gently reshapes the blade.
Although it's not pure ceramic, the stainless steel core gives it a bit more heft and strength. Plus, it's loaded with convenient and safe improvements, such as the silicon non-slip tip when you are using the straight downward method. It also has a large bolster for peace of mind that you're safe when you're using it.
Although it's more expensive, you really are paying for quality. If you're using valuable and top-quality knives, it makes sense to treat them with the same, equal-quality tools. Dalstrong offers 100% satisfaction or a money-back guarantee with a lifetime warranty, so there's nothing to lose on this one if it's within budget.
Work Sharp Kitchen Ceramic Honing Rod
Very affordable 

100% ceramic
Angle guides make it easy for beginners
Rubber tip to protect the rod and your bench!
Only one grit level which isn't as fine as others in the market.
Work Sharp's Ceramic Honing Rod stands out as one of the most affordable CERAMIC honing steels you can find.

It has a rubber tip to protect your benchtop and the ceramic rod, and a solid and robust handle with a comfortable sturdy grip.
But, it's also leading the market in a new and innovative way. The Work Sharp's honing rod has built-in angle guides at the tip of the handle, helping you direct the knife at a consistent angle for optimal honing.
I must admit if you know how to hone these markers are kind of obsolete, but it helps beginners and it's a nice-to-have!
It's tough, strong, and durable, and it does the job at an affordable price!
Green Elephant Ceramic Sharpening & Honing Rod
Good, in-between 1500 grit level
Super durable "shatterproof" design
Plastic cap for protection and balance
Decent price-point
Basic rubber handl

e

Cheaper, plastic tip (compared to rubber or silicone)
Packing 11 inches of true ceramic, the Green Elephant honing rod really stands out in the room (get it?).
Jokes aside, the Green Elephant really isn't anything to laugh at. It's standout feature is it's self-proclaimed "shatterproof" design.
It's been engineered to be shock absorbing, distributing vibrational waves between the silicon seal and the plastic end cap to avoid it shattering easily.
Although mine hasn't broken yet, I'm not convinced it's unperishable.
Nonetheless, it's tough, fine, and won't damage your Japanese knives, what more can you ask for in a Japanese honing rod?
Japanese steel knives are at peak quality and performance. What you'll find is they are more often sharper, more lightweight, and made with harder steel than German counterparts. Japanese knives also don't often have a full bolster and have a partial tang, which helps them stay light and give you maximum control.
The hardness of Japanese steel, which is measured on the Rockwell Hardness Scale, measures up to 58-62+ Rockwell, compared to 55-58 of German steel. Tougher steel means it stays sharper for longer, but softer steel is easier to sharpen.
Tang refers to how far the steel blade extends into the handle. Full tang is when the steel runs from the tip to the butt of the knife. Japanese knives tend to have a partial tang to help keep them lightweight and precise.
Sharpness is determined by how thin, or sharp, the edge of the knife is. When we say how thin, it really just means to what degree the steel is sharpened at. Japanese knives are sharpened at around a 15° angle.
How To Use A Honing Steel For Japanese Knives
The two most commonly used methods of honing steel are freehand, like professional and TV chefs do, and the straight down method, where you hold the honing steel vertically against a strong surface like a bench or table. The same technique can be applied for all types of Japanese knives, whether it's a Japanese fillet knife or a Santoku knife for cutting vegetables.
Step 1: Hold your steel vertically against a flat surface like a bench with a firm grip.
Step 2: Estimate your angles. Most knives are sharpened between 15-20° angles, and most Japanese knives will be sharpened at around 15°. An easy way to measure this is to hold the knife horizontally against the steel (which is 90°), then halve it (to 45°F), halve it again (22.5°F) then bring it slightly closer.
Step 3: Firmly and evenly slice at the 15-20° angle from the end of the knife to the tip in one smooth motion, almost as if you are trying to slice some of the honing rod.
Step 4: Alternate between both sides of the knife keeping the angle consistent. Around 4 times on each side with moderate pressure should be more than enough to have your blade perfectly realigned and ready to use but a few extra times doesn't hurt so long as you keep it even.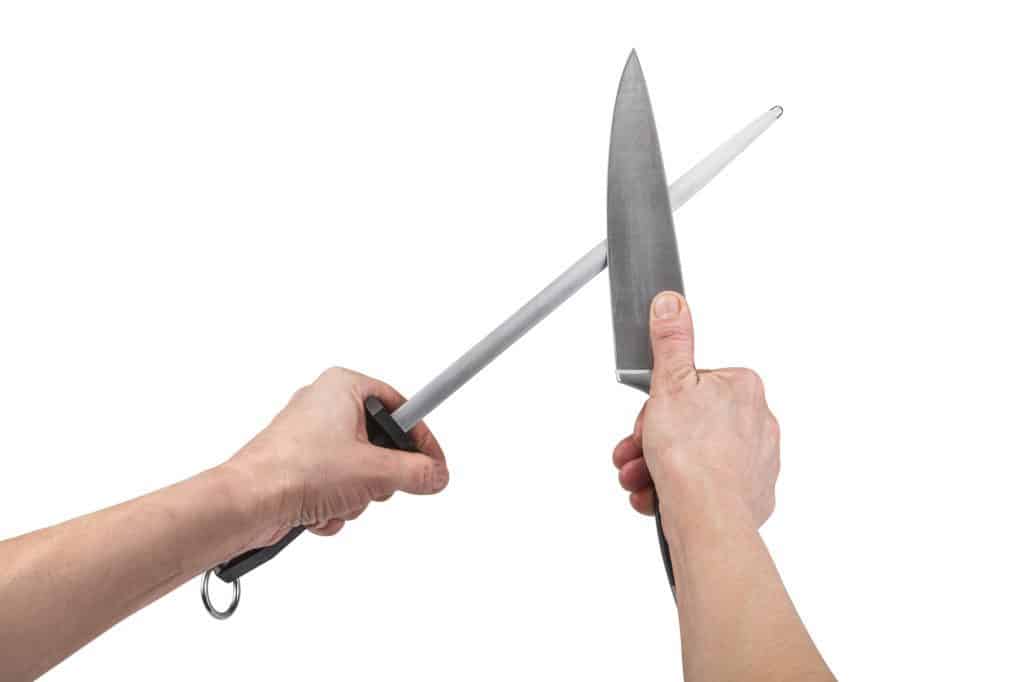 Step 1: Find your angle. Similarly to above, you can find the angle by halving the angle from 90°, but this time you are holding the honing steel diagonally.

Step 2: Start at the tip of the honing rod. With the end of the knife slowly and evenly slice toward yourself ending at the tip before it reaches the bolster of the honing rod. Do it very lightly a few times to get the hang of it before applying a bit more pressure.

Step 3: Alternate both sides, and for safety, only go at a speed you are comfortable with until you get the hang of it. So long as you're using honing steel with a good bolster you should be safe!
Honing Steel Methods Explained
Sharpening Japanese Knives
Just as you hone your knives to keep the blade straight and performing at its peak, it's equally as important to keep your knives sharp. A dull knife is more dangerous than a sharp knife, as you have to apply more pressure which can turn ugly if the blunt knife slips!
To keep Japanese knives at their sharpest, it's recommended to use a whetstone. Sharpen your knives with every five to ten uses. Some chef's would say sharpen them more often or less frequently, but it really depends on how much you use them and what you use them for. Cutting through bones and cutting fruit are very different tasks!
You can use an automatic sharpener instead of a whetstone, but just be aware that this may not sharpen it to the 15° degrees it was originally engineered at. It will still sharpen, but it may also more easily damage the knife.
If you want to maintain the high quality and performance of your Japanese knives, you need to take care when honing their steel.
The best honing steels for Japanese knives should be made from ceramic materials, with fine grits to gently align the blade without damaging the edge.
The best are those like the Dalstrong 10 Inch Black Ceramic Honing Rod, being probably one of the highest qualities in the market.
Others like Noble Home & Chef's Professional Ceramic Honing Rod are everything you need at a lower price point.
If possible you should avoid stainless steel rods at all costs, even if they are fine-grit. They are just more likely to scratch the Japanese steel blade.
If you're using a steel rod, be sure it's not too abrasive, and take extra care when you're honing your knife.